Fui à mostra "O triunfo da cor" no Centro Cultural Banco do Brasil hoje, finalmente! Depois (sempre deixo pra depois, eu sei :P, e muitas vezes não funciona *rs*) escrevo mais detalhes, mas só digo uma coisa: meu andar favorito não foi o que tem Van Gogh, Cézanne nem Gauguin. Foi o terceiro andar, maravilhoso!!!! Vão lá ver, fica até 7 de julho e é muito bonita! E pode tirar foto sem flash com celular 🙂 Um dos meus quadros favoritos lá:
E este outro, Naufrage:
&&&&&&&&&&&&&&&&&&&&&&&
Outro dia *alguém* me perguntou a respeito das festas juninas – essa pessoa achava que todo mundo faz festa aleatoriamente em junho apenas pra pular fogueira, soltar fogos, bater papo, comer e beber coisas gostosas e engordativas (o que não deixa de ser verdade também! hahahahhaha), e não sabia que neste mês há dias comemorativos de pelo menos 4 santos – a saber, São João, Santo Antônio, São Pedro e São Paulo. Se você se inclui no time dos que não sabiam que se tratava desses santos, favor ler esses links da Wiki! 😛
&&&&&&&&&&&&&&&&&&&&&&&
Ainda preciso escrever sobre o filme Truman, que o gato "adorou" *rs* Assistimos durante o feriado (Páscoa? Não lembro…) quando estávamos em Santos. Finalmente um filme bom!!!
&&&&&&&&&&&&&&&&&&&&&&&
Semana passada ensinei alguns palavrões básicos em Inglês durante a aula, por considerar que é essencial saber quando ou se você está sendo xingado numa língua que você não conhece direito…e, sobretudo, para que se possa responder à altura 😛 Tiraram foto da minha lousa, afff…espero que não dê processo depois!!! Todos maiores de idade na sala, claro!
&&&&&&&&&&&&&&&&&&&&&&&
…e por falar em maior de idade: descobri que a avó de um dos meus alunos tem 61 anos de idade. Minha mãe tem 63! Ele me disse que a mãe o teve aos 18 anos de idade – portanto, ela hoje tem 42 anos de idade. Ou seja, sou velha o suficiente para ter um filho cavalão de 17 anos de idade, que estaria prestando vestibular agora!!! Credo! Pior que isso: tenho aluno que nasceu em 2001. Nesses momentos eu realmente me sinto velha. Coroca. Afinal, me lembro nitidamente de tudo o que aconteceu em 2001 – estava no terceiro ano da faculdade, já dava aulas de Inglês…afff!!!
&&&&&&&&&&&&&&&&&&&&&&&
Ultimamente (= nos últimos anos) tenho a mania de ler vários livros concomitantemente. Alguns às vezes ficam pra trás. Outros são lidos até o final. Atualmente, estou lendo ao mesmo tempo mais livros do que o normal. Vejamos…
– The ocean at the end of the lane – Neil Gaiman – Comecei a ler ontem, durante a prova dos alunos! Estou na página 20 (letrinha pequeeeenaaa, arre!), mas já deu pra ver que vou ler rapidinho, e que é ótimo!
– The Snow Queen and other winter stories – vários autores – comecei a ler em novembro do ano passado! Não levem a mal, as histórias são maravilhosas – tem coisas do Hans Christian Andersen (a história que dá título ao livro está aqui neste post), do Oscar Wilde, dos irmãos Grimm, tem histórias folclóricas anônimas, enfim…tem de tudo. Quis ler quando estava no verão, porque o calor era insuportável e, quando a narrativa é boa, ela tem o poder de me transmitir qualquer sensação térmica, independente do ambiente em que eu esteja. Por isso, leio coisas sobre o inverno no verão, e coisas sobre o calor no inverno 🙂 Quando faço o oposto, quase morro! *rs* Agora, vejam só, cá estamos no verão e ainda estou lendo. Ficou parado muito tempo, enquanto eu cuidava da Lilith…e me trazia memórias dela, por isso não quis mais pegar. Mas vou retomar agora. Estou na página 319, e não tem problema ler ao mesmo tempo que outros livros, pois são contos independentes (via de regra curtos…).
– The Magicians – Lev Grossman – Comprei aleatoriamente meses atrás, baseando minha decisão na orelha! Nunca ouvi falar no autor ou no título.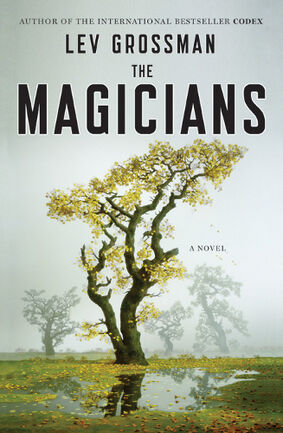 Na capa estava escrito "Estreia em breve no Sy-Fy" (canal de televisão), mas procurei no canal e não achei nada. Esta semana, finalmente estreou a série na TV. Só vi os primeiros minutos, não deu tempo de assistir. Aí, resolvi tirar o livro da estante e começar a ler para comparar esses primeiros minutos da série com o livro. Claro que o livro é melhor, dã! 😛 Então vou ler (estou na página 63, comecei há dois dias. Vai ser rapidinho também), apesar de ser parte de uma trilogia, e eu não ter os outros 2 livros…ODEIO quando termino um livro e não tenho o restante para prosseguir!
(é o caso do livro Queen of the Tearling, que li ano passado e tô até agora esperando achar a continuação numa loja qualquer, mas pelo jeito vou ter que recorrer à internet…disseram também que os direitos autorais foram vendidos para o cinema, e que a Emma Watson faria o papel principal, mas até agora, não ouvi mais nada!)
(também preciso achar a continuação dos livros da Elle Casey! Sei que ela lançou pelo menos um que ainda não li, e deve lançar mais uns 2 ou 3…)
– Best ghost stories – vários autores, excelente! Tem conto do Charles Dickens, do Sir Walter Scott, do Robert-Louis Stevenson, do Rudyard Kipling…espetacular! Alguns dão medinho, heheheh 🙂 Estou na página 171, e tampouco tem problema de ler junto com outras coisas porque, como a Snow Queen, é uma coletânea de contos, e quero mais é que dure bastante mesmo! 😀
– Mario de Sá Carneiro – Obra completa (volume único). – tem de tudo aqui! Poesia, prosa, correspondência, teatro. Estou na página 86, na parte de poesia. Bem sombrias, melancólicas e-ou nostálgicas. Estilo crise existencial, sabe? Me lembra Fernando Pessoa (ele mesmo e um de seus heterônimos hehehehe).
– A quinta onda – Rick Yancey – Também parte de uma trilogia, mas consegui comprar as sequências (o terceiro comprei em Inglês por não achar em Português – o gato vai ter que se virar pra ler, tadinho!). Estou na página 30.
– O gigante enterrado – Kazuo Ishiguro. Sou fã desse hómi! Ele é um autêntico japa-britânico *rs* Virei fã desde que li The remains of the day, e depois comecei a ler Never let me go (pois é, outro inacabado…). Comprei em português mesmo, porque não achei em Inglês. Depois até achei o original, mas tava caro! Tô na página 43, ainda boiando…ele não nos localiza direito nem no tempo, nem no espaço. E tem um lance estranho de perda coletiva de memória rolando! Vamos ver no que vai dar…tem uma resenha dele aqui, que fala que a história se passa na época Xis, mas só se der pra concluir mais tarde na narrativa, porque até onde li, não dá pra saber.
PS – esqueci de falar! Ano passado, li um livrinho do Tolkien pro qual eu não dava nada, Smith of Wooton Major. MUITO legal!!!!! Recomendadíssimo, para fãs e não-fãs do Tolkien! Mas é lógico que quem gosta de faerie vai curtir mais 😉